Reenergize & Empower Employees Like Never Before
Regardless of what kind of market we are in or the size of a company's profit and loss, the most successful companies maintain high-performance teams by investing in the development of their people.
XINNIX®, The Academy of Excellence, is the premier provider of performance training in the mortgage industry for over 20 years. The XINNIX System™ of Training, Accountability and Coaching was originally engineered for loan officers and mortgage professionals to elevate sales and leadership teams to new heights in any market.
The XINNIX Difference for the Mortgage Industry
Our founder and CEO, Casey Cunningham, started her career in the mortgage industry, where she saw firsthand that the vast majority of professionals were operating without ever receiving proper training. This inspired the creation of XINNIX's Performance Development Training programs, focused on skills and disciplines loan officers and other mortgage professionals care about the most. For more than 20 years, we've created measurable success for mortgage professionals at every level of the organization: from new loan officers to the CEO themselves! Explore our proven XINNIX System™ and get ready for a culture-wide transformation you never knew was possible before today!

See what makes us different
Our Performance Development Programs
On average, XINNIX Performance Development Training participants see a 40% lift in sales productivity! Explore our corporate training programs below and learn about our unique Learning Experience.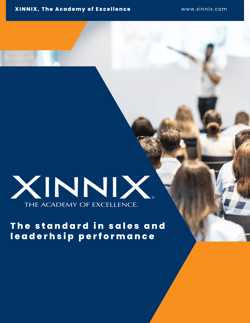 Elevate your performance with training that gets results
We believe that performance excellence drives results. Our proven methodology within THE XINNIX SYSTEM™ of Training, Accountability, and Coaching combines key components into an extraordinary learning experience. Grab your copy of the XINNIX Capabilities Brochure to see all the different ways we can help you create a high performance culture.
Energizing People, Elevating Results
Ready to get your mortgage team aligned, consistent and profitable? Our proven Performance Development Training programs drive professional performance like no other in the industry.
XINNIX experts are here to help you inspire and motivate your team to achieve excellence. Schedule a call below or fill out the form and a XINNIX representative will contact you shortly.
Ready to Learn More?
Let us know how to reach you and our experts will be in touch.
What People Are Saying...
The XINNIX Sales Performance Program has been very successful and repeatable for our sales team across South, Central and North America. We have sales professionals who have a long average tenure with our company and who support and grow very large customers. These are sales professionals who typically have very strong sales skills to begin with, and while they want additional sales training, they are very clear about their time being spent wisely.

S. Smart

Business Enablement

...XINNIX has been a phenomenal partner of ours with undeniable benefits for training and recruiting.

C. Sorensen

SVP/Director

Our managers were thrilled with the information they received and are excited about growing... Thanks for making it fun, comprehensive and interactive.

G. Royal

Senior Vice President

Love this company! Got my start with education from XINNIX and the one and only Casey herself! Pay attention. This company has wisdom to share!

A. Mears-Cohen

Financing Advisor

XINNIX training has been a journey of discovery for me. It helped me structure my business plan and encouraged us all to get comfortable with being uncomfortable.

K. Browne

Mortgage Loan Consultant