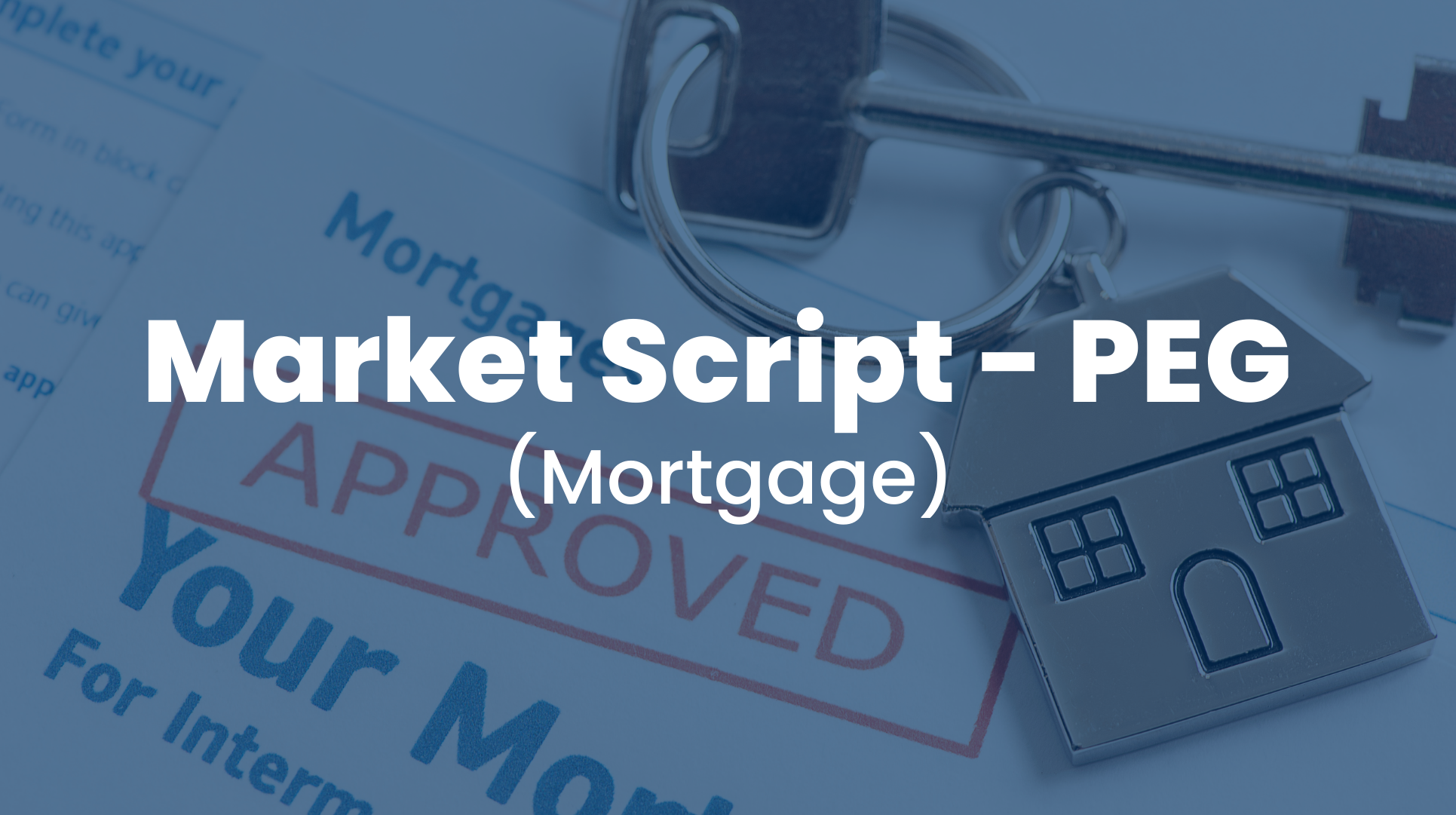 Market Script (PEG)
(Week of 06/05/2023)
WEEKLY SCRIPTS ENABLING YOU TO FACILITATE DISCUSSION ABOUT THE MARKET WITH YOUR CUSTOMERS AND REFERRAL SOURCES.
What is PEG?
"What do you think rates are going to do?" This is a common question Loan Officers must frequently answer.
At XINNIX, we believe professional loan officers should respectfully and directly answer this key client question to ensure maximum customer satisfaction. Why? Because you never get a second chance to make an excellent first impression. The confidence, manner, content and concise nature in which this question is answered is critical to gaining a customer's "buy-in".
PEG is an acronym that stands for:
Present (current market conditions)
Expectations (industry expert's forecast)
Guidance (personal, client-specific advice)
When you exude personal confidence, communicate with clarity and provide brief, accurate and relevant market information to your clients, you will differentiate yourself as a true professional. Our weekly market script will help you consistently deliver a professional response to your client's important market question, and you will gain a tremendous opportunity to showcase your professionalism!
Week of June 05, 2023
Present Market Conditions
Attributed to Sam Khater, Chief Economist.
"Mortgage rates jumped this week, as a buoyant economy has prompted the market to price in the likelihood of another Federal Reserve rate hike," said Sam Khater, Freddie Mac's Chief Economist. "Although there has been a steady flow of purchase demand around rates in the low to mid six percent range, that demand is likely to weaken as rates approach seven percent."
Expectations
Investors are continuing to monitor news pertaining to the banking sector and future rate adjustments. It looks like we have a light week ahead of us with regard to economic reports. Monday brings the ISM national services report along with the Factory Orders data. Wednesday then brings the U.S. trade deficit numbers. Thursday finishes up the week with the weekly Jobless Claims along with the Wholesale inventories report. We'll have a lot more information coming our way next week.
Guidance
It's a great time to be in the market for a mortgage! You'll want to make sure you take advantage of this great time to buy!
Let's Connect!
With a focus on experiential learning, The XINNIX System™ equips your sales, leadership and operations teams with the modern performance skills they need to transform their lives — and the trajectory of your business success. Our unique methodology has a 20-year proven track record of success.
Discover the XINNIX Difference and reach out to chat with a National Sales Executive today.
Ready to Learn More?
Let us know how to reach you and our experts will be in touch.