3 Ways to Energize & Educate
Let our team energize your next virtual or live event! Our leaders, trainers and coaches host virtual or in-person sessions to engage and inspire your team.
1. XTalks
XTalks provide thought-provoking insight with inspiration for a power-packed 20 minutes. XINNIX can assist you in selecting the perfect topic for your virtual or live event. Your next step towards an exceptional event is just a message away.
1. XTalks
What if just three words could change the way your company does business, forever? Our CEO and Founder, Casey "Blade" Cunningham, makes your audience stop, think and take ownership of their performance in her "Three Powerful Words for Greater Success" session. That's just one example of our expert-led XTalks. These 20-minute insightful conversations are perfect for quick, effective inspiration!
2. Keynotes
These sessions are centered around the themes of leadership, sales, or culture. These transformative sessions can be seamlessly tailored to 30 to 60 minutes. Your journey to an inspired and impactful event begins here.
2. Keynote Addresses
If our XTalks are the opening act, think of our Keynote Addresses as the main event! These 30 to 60-minute sessions take a deep dive into leadership, sales or operational performance and are perfect for annual conferences or quarterly rallies. Some popular topics include, "The Art of Sales Excellence" to "Being an Effective Leader in Today's Marketplace," but there's more where these come from!
3. Workshops
These sessions provide a variety of relevant breakout sessions to energize your audience with group training and exercises. Topics can be modified to accommodate 30 - 90 minute sessions. Elevate and empower your team to take their results to the next level.
3. Workshops
XINNIXspeaks Workshops take our Keynote Addresses a step further by encouraging audience interaction. After the inspiring talk from your XINNIX speaker, participants work directly with other audience members and XINNIX experts to apply what they've learned. From Workshops such as "The Science of Retention" to "How to Be a Lead Generation Machine," these 30 to 90-minute collaborative sessions motivate and encourage instant action!
Keynotes & Workshops That Inspire Real Results
Are you looking to increase engagement and maximize your team's potential? With one of our transformational keynotes or workshops, you can elevate the performance of your workforce and watch growth skyrocket!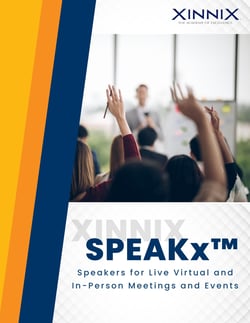 Interested in seeing more?
At XINNIX, we have just the solution for you! We offer a wide selection of options, curated to cater to your specific audience and their needs. Whether you're seeking inspiration at a conference or a team-building workshop to invigorate your workforce, our experts incorporate unique strategies that will encourage your participants to stay tuned, retain information, and help you achieve the desired outcomes of any event.
Book Your Event
Sessions book up fast — so don't wait! Transform your business and the lives of your team by exploring our offerings today.
Ready to Learn More?
Let us know how to reach you and our experts will be in touch.