Building Trust for Exceptional Results & Retention
Salespeople in financial services aren't only in the business of selling long-term financial advice and security… they also sell trust. Trust in their ability to prepare their clients for a comfortable retirement or financial support for their small business.
Financial Advisors or bankers create those strong client relationships. When you lose a good employee, you often also lose their faithful clients. Because your people play such an integral role in your brand's trust, it's crucial to train and retain top-notch performers to represent your company for many years to come.
We've seen the power of equipping all employees, leaders, managers and sales with the skills and discipline they need to succeed. Not only does it transform the individual — it transforms the business success of the entire organization. Let's explore the XINNIX Difference.
The XINNIX Difference for Financial Services
Financial Services leaders are often promoted as a result of being top performers. They receive little to no training on how to manage their teams. While they may understand the behaviors that made them successful, they may not know how to cultivate those behaviors in their direct reports. For more than 20 years, we've been using our proven system to help these leaders empower their salespeople and elevate production.
Performance Training Programs for Financial Services
XINNIX is uniquely positioned to help Financial Services-based employees, managers and leaders at all levels of your organization by empowering them with the skills, mindset and activities necessary for attracting and retaining motivated and trusted advisors. Explore our corporate training programs below to learn more.
In addition to accountability and measuring results, whether you build or buy, XINNIX can help you and your company secure learning programs that are the right cultural, content, budget and delivery fit.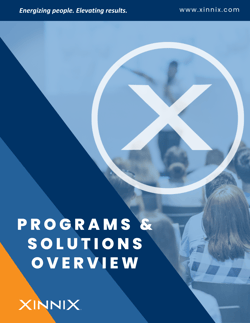 Elevate your performance with training that gets results
We believe that performance excellence drives results. Our proven methodology within THE XINNIX SYSTEM™ of Training, Accountability, and Coaching combines key components into an extraordinary learning experience. Grab your copy of the XINNIX Capabilities Brochure to see all the different ways we can help you create a high-performance culture.
Featured Resources — Just For You!
An Investment With Long-Term Return
More than anyone, you know that small investments today lead to long-term security tomorrow. Just like your clients invest in their futures, you too need to invest in your employees' lasting growth. Their success will become your business's success.
Ready to learn more about our Performance Development Training programs for Financial Services? Fill out our form to request a call with a consultant today!
Ready to Learn More?
Let us know how to reach you and our experts will be in touch.
What People Are Saying...
The XINNIX Sales Performance Program has been very successful and repeatable for our sales team across South, Central and North America. We have sales professionals who have a long average tenure with our company and who support and grow very large customers. These are sales professionals who typically have very strong sales skills to begin with, and while they want additional sales training, they are very clear about their time being spent wisely.

S. Smart

Business Enablement

...XINNIX has been a phenomenal partner of ours with undeniable benefits for training and recruiting.

C. Sorensen

SVP/Director

Our managers were thrilled with the information they received and are excited about growing... Thanks for making it fun, comprehensive and interactive.

G. Royal

Senior Vice President

Love this company! Got my start with education from XINNIX and the one and only Casey herself! Pay attention. This company has wisdom to share!

A. Mears-Cohen

Financing Advisor

XINNIX training has been a journey of discovery for me. It helped me structure my business plan and encouraged us all to get comfortable with being uncomfortable.

K. Browne

Mortgage Loan Consultant