Consumers Still Overestimate Down Payment Requirements – According to National Association of REALTORS® data, the majority of consumers continue to mistakenly believe they need at least a 20% down payment to purchase a home, but the truth is the average down payment among all buyers is just 12%. Younger buyers tend to put down the least: For example, those between the ages of 22 and 30 put down an average of 6%, and those between the ages of 31 and 40 make an average 10% down payment. Financial experts often say a 20% down payment is ideal because it helps borrowers qualify for a mortgage and avoid the extra costs of private mortgage insurance. But it's not always practical advice, especially as affordability dwindles. For example, a 20% down payment on an entry-level single-family home in the Los Angeles area could be between $200,000 and $400,000. Several conventional lenders allow buyers to purchase a home with a down payment as low as 3%, while some government-backed programs like through the VA issue loans with no money down. Borrowers may find such options through FHA, USDA, or VA loans as well as down payment assistance programs.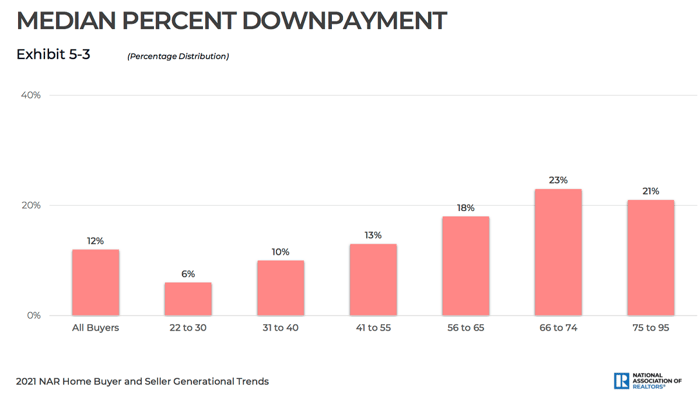 Source and link to the full article: "Most Would-Be Home Buyers Are Wrong About the Down Payment They'll Need," The Ascent/Motley Fool (July 11, 2021)
Inventory Shortage Further Delays Millennial Ownership – Based on a First American housing index, millennials are finally ready and eager to buy a home but face a new hurdle: They can't find anything to buy. A record number of millennials wanted to buy homes in 2020. However, the inventory shortages that are hitting all price points of the housing market have risen in importance to further delay their entrance into homeownership. Before the pandemic, millennials said they were struggling to save for a down payment due to lost savings from the financial crisis. Many were also burdened with student debt. Many in this generation were also delaying marriage and having children, which are often linked to homeownership. But now this generation of young adults is feeling more financially stable. Millennials' potential homeownership demand has climbed by 3.5 percentage points year over year, more than any other generation, according to First American's analysis. The peak year of millennials turned age 30 in 2020, while the oldest turn 40 this year. The generation is the largest potential homebuying group, and the real estate industry has long been anxiously awaiting its entry into real estate.
Source and link to the full article: "Millennials Are Still Driving a 'Roaring 20s' of Homeownership Demand, But There Aren't Enough Houses for Them," Business Insider (July 12, 2021) and "Pandemic Accelerated 'Roaring 20s' of Millennial Homeownership Demand," First American (June 29, 2021)
Mortgage Costs Grow 20 Times Faster Than Incomes – According to the National Association of REALTORS®' Housing Affordability Index, housing affordability continues to decline as the hot real estate market fuels skyrocketing prices. Incomes aren't keeping pace with the higher prices. The median family income rose by 1.2% in May while the monthly mortgage payment jumped by 20%. Even as mortgage rates are down compared to a year ago which has helped buyers save on borrowing costs, the median existing-home price has jumped 24.4% compared to the same period. Monthly mortgage payments increased to $1,204 in May, a 20% jump compared to a year earlier. NAR's analysis notes the annual mortgage payment as a percentage of income increased to 16.5% over the past year due to higher home prices and a decline in median family incomes.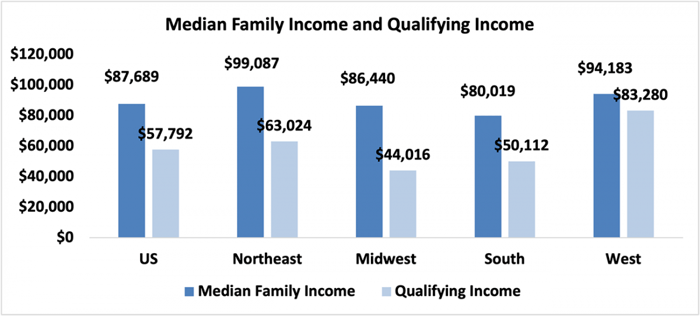 Source and link to the full article: "Housing Affordability Falls in May as Home Prices Rise Faster Than Income," National Association of REALTORS® Economists' Outlook blog (July 9, 2021)
Seller Optimism Has Never Been So High – Based on Fannie Mae's Home Purchase Sentiment Index, seventy-seven percent of 1,000 consumers say it's a good time to sell a home. They have plenty of reason to feel so upbeat: Existing-home sales prices were at a record high in May and up nearly 24% compared to a year earlier ($350,300), according to the National Association of REALTORS®. The higher home prices have translated into greater equity for home sellers. In the first quarter of 2021, the average homeowner saw their equity climb nearly 20% in the past year, gaining about $33,400, according to a report from CoreLogic. Meanwhile, home buyers aren't feeling as good about the housing market. Sixty-four percent of consumers say it's a bad time to buy a home, up from 56% the previous month, Fannie Mae reports. The "buy and sell components continued to diverge," Doug Duncan, Fannie Mae's senior vice president and chief economist, said about the latest consumer sentiment index readings. "Consumers also continued to cite high home prices as the predominant reason for their ongoing and significant divergence in sentiment toward homebuying and home-selling conditions."
Source and link to the full article: "Consumers Increasingly Adamant That It's a Good Time to Sell, Bad Time to Buy a Home," Fannie Mae (July 7, 2021)