Mortgage refinance demand surged 6%, as rates dropped to the lowest level since September –
According to the Mortgage Bankers Association's seasonally adjusted index, applications to refinance a home loan jumped 6% recently as mortgage interest rates dropped again. However, it was still 85% lower than one year ago. The average contract interest rate for 30-year fixed-rate mortgages with conforming loan balances ($647,200 or less) decreased to 6.34% from 6.42%, with points decreasing to 0.59 from 0.64 (including the origination fee) for loans with a 20% down payment.
Source and link to the full article:
Mortgage refinance demand surged 6%, as interest rates dropped (cnbc.com)
New Home Sales Rise in November, Consumer Sentiment Improves on Lower Inflation –
Based on the Census Bureau and the Department of Housing and Urban Administration's updates, a better picture of the economy is painted ahead of a new year. Many economists believe it will bring a recession. Recent home sales rose in November by 5.8% from a month earlier, buoyed by a dip in mortgage rates and builders willing to offer deals. "Builders are banking on home shoppers returning to the market in the first part of 2023," Lisa Sturtevant, chief economist for Bright MLS, said. "With mortgage rates sliding, it is likely that there will be more traffic as we head into spring. However, new home builders will compete more with existing homes as inventory rises." Meanwhile, the final reading of the University of Michigan's consumer sentiment survey for December came in at 59.8, up from the 59.1 preliminary estimates.
Source and link to the full article:
New Home Sales Rise in November, While Consumer Sentiment Improves on Lower Inflation | Economy | U.S. News (usnews.com)
2023 Housing Market Predictions: Gradual Shift Toward Buyers –
According to the
U.S. News Housing Market Index, with over 85% of homeowners paying mortgage rates below 5% (and two-thirds with rates under 4%), home sales will remain muted as long as rates are elevated. Whether or not Mark Twain truly said, "History doesn't repeat itself, but it often rhymes," that sentiment certainly seems apt for today's housing market, which is (again) turning into a correction after (another) historic rise. Over the next year, we'll find out just how much the shift in the housing market rhymes with the past and how much it is creating a new history. More people will delay moving due to this "lock-in effect" until rates retreat below 5% or prices adjust accordingly. Local markets, which have become increasingly disconnected from local incomes, will be more likely to see price declines of 10% or more, especially if employers successfully bring workers back to offices four or more days per week. If there is a deep recession, pricing declines in some previously high-flying markets could exceed 20% to 25%. Depending on the area, renters will also be able to claw back more market power in 2023 as historically high levels of new apartments now under construction are completed. A supply glut for short-term rentals will force some owners in oversaturated markets to convert their listings to long-term rentals, adding more supply for traditional renters.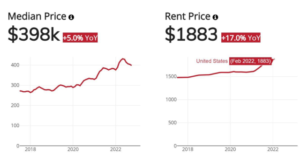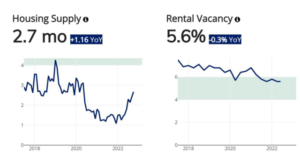 Source and link to the full article: 2023 Housing Market Predictions: Gradual Shift Toward Buyers | U.S. News Housing Overview | U.S. News (usnews.com)

Mixed Signals in Housing Data and Small-Scale Volatility in Rates –

The National Association of Homebuilders (NAHB) recently published its builder confidence numbers, showing a small glimmer of hope in the 6-month outlook. They moved higher from last month and rose above the headline confidence index for the first time all year. The previous two weeks of December are unlike almost any time of year regarding market movement and what we should read into it. Still, several housing-related reports are worth considering as we head into the new year. Overall confidence (aka "headline") dropped for the 12th straight month to nearly the lowest level in over a decade. The more we see developments like this in the data, the more it would speak to a bottoming-out process for housing market weakness.

Source and link to the full article:

Mixed Signals in Housing Data and Small-Scale Volatility in Rates (mortgagenewsdaily.com)