Markets Seeing High Homebuilding Rates – Based on The National Association of REALTORS® recent report, home buyers are struggling to find enough choices, and competition remains tight. But in some markets, new-home construction is ramping up and more homes are likely to help relieve some of the pressure in the near future. The report identified areas most likely to have the most homes coming to the market in the upcoming months. Researchers factored in housing starts and building permits which is a gauge of future construction.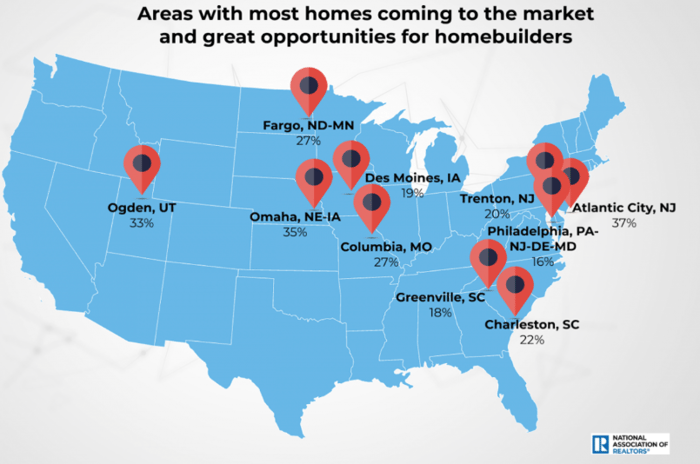 ©National Association of REALTORS®
Source and link to the full article: "Where to Find a Home: Areas With Great Opportunities for Homebuyers and Homebuilders," National Association of REALTORS® Economists Outlook blog (April 27, 2021)
Latino Households Propel Home Sales – According to the Urban Institute, Hispanic homeownership continued to climb to a record level last year, continuing a decade-long trend even during the COVID-19 pandemic. Hispanics comprise about 18% of the nation's population but have accounted for more than half of the country's homeownership growth over the past decade. They're expected to grow their homeownership numbers, said the Urban Institute, which estimates that 70% of net new homeowner households will be Hispanic over the next 20 years, through 2040. More than 600,000 Latinos purchased a home with a mortgage last year, 13% higher than in 2019, according to the latest Census Bureau data analyzed by the National Association of Hispanic Real Estate Professionals. "Despite significant headwinds, Latinos drove homeownership growth in America for the sixth consecutive year," says Gary Acosta, NAHREP co-founder and CEO. "This was especially consequential in 2020 because it was housing more than any other sector that pulled the country out of the coronavirus-induced recession."
Source and link to the full article: National Association of Hispanic Real Estate Professionals; "More Hispanic Americans Are Buying Homes, Helping Stoke Hot Housing Market," The Wall Street Journal (April 20, 2021) [Log-in required.] and "Why More Latinos Became Homeowners During the Pandemic," realtor.com® (April 20, 2021)
Most Common Obstacles to Closing on Time – Based on the latest REALTORS® Confidence Index, the majority of home sale contracts are settling on time, but 26% faced delays in February while 6% were terminated completely. The following chart shows the most common issues sparking a delay to closing. The most common problems leading to a termination of the contract were related to appraisal issues (11%), obtaining financing (10%), and home inspection/environmental issues (9%). Nevertheless, the housing market remains competitive. Respondents to the REALTORS® Confidence Index report an average of four offers for every house sold. Also, homes typically sold within 20 days, a record low since May 2011, when NAR started collecting such information. A year ago, homes typically sold within 36 days.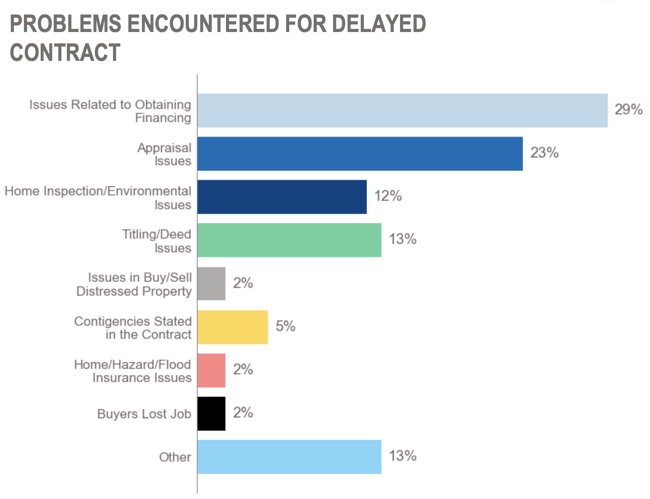 Source and link to the full article: "REALTORS® Confidence Index Survey, February 2021," National Association of REALTORS®
New-home Sales Reach 15-year High – According to new data from the Department of Housing and Urban Development and the Census Bureau, buyers are increasingly turning to newly constructed homes for more options. Sales of new single-family homes surged 20.7% month over month in March to a 1.02 million seasonally adjusted annual rate. New-home sales are at the highest annual pace since September 2006. "Our members are seeing strong buyer traffic as continued low mortgage rates are helping fuel sales," says Chuck Fowke, chairman of the National Association of Home Builders. "However, builders are still grappling with major supply chain issues and soaring materials costs, which are causing construction delays and preventing them from adding to the already very low inventory." Builders are facing particular challenges because of rapidly rising lumber prices, which nearly doubled over a four-month period in 2020 and have continued to reach new highs. To help offset increasingly expensive prices, more builders are adding escalation clauses to their sales contracts.
Source and link to the full article: National Association of Home Builders