Fed Hints Mortgage Rates May Soon Rise – Based on the Federal Reserve's recent announcement, interest rates are expected to soon rise. The Fed, however, warned that it was preparing to taper its emergency stimulus efforts from the pandemic, including winding down its bond purchases. That is expected to make mortgage rates rise, as well as rates on credit card and car loans. "Tapering itself is going to increase yields in the medium and long-term horizons, which will translate into higher borrowing costs," Yiming Ma, an assistant finance professor at Columbia University Business School, told CNBC. The Fed has purchased $40 billion worth of mortgage-backed securities each month as part of the stimulus program during the pandemic. That has brought a surge of liquidity into the mortgage market and has allowed lenders to drop interest rates.
Source and link to the full article: "The Fed Is Holding Its Rates Near Zero for Now. Here's What It Means for You," CNBC (Sept. 22, 2021) and "'The Era of Sub-3% Mortgage Rates May Be Behind Us': The Fed's Policy Shift Could Have Major Repercussions for Home Buyers," MarketWatch (Sept. 22, 2021)
Pending Sales Signal Strong Buyer Comeback – According to the National Association of REALTORS® recent report, home buyers made a strong comeback in August, pushing contract signing up 8.1% over July's numbers. The increase in pending home sales followed two consecutive months of declines. "Rising inventory and moderating price conditions are bringing buyers back to the market," says Lawrence Yun, NAR's chief economist. "Affordability, however, remains challenging as home price gains are roughly three times wage growth." Such an imbalance in the market is unsustainable over the long term, Yun adds. The median existing-home sales price was $356,700 in August, according to NAR data. That is up 14.9% compared to August 2020. But that does mark a slower annual rate for price increases than previous months.
Source and link to the full article: National Association of REALTORS®
More Buyers Are Taking Risks to Get Dream Home – Based on a recent survey by Repair Pricer, home buyers are willing to tolerate more risk as they search for a new home, even if it means paying well above asking price or relenting on their wish lists. Repair Pricer, a firm that provides an AI-powered home inspection cost calculator, surveyed more than 3,000 American adults to gauge their willingness to take risks during the homebuying process. Forty percent of respondents said they're willing to pay $20,000 over the asking price for their dream home. Home buyers are eager to get into homeownership any way they can. Eighty percent of respondents say they're willing to purchase a fixer-upper and 42% would purchase a home that didn't meet their requirements just to be a homeowner.
Researchers considered the following homebuying behaviors among the riskiest:
Buying a home without seeing it in person
Waiving inspections
Skipping an appraisal
Paying significantly above the asking price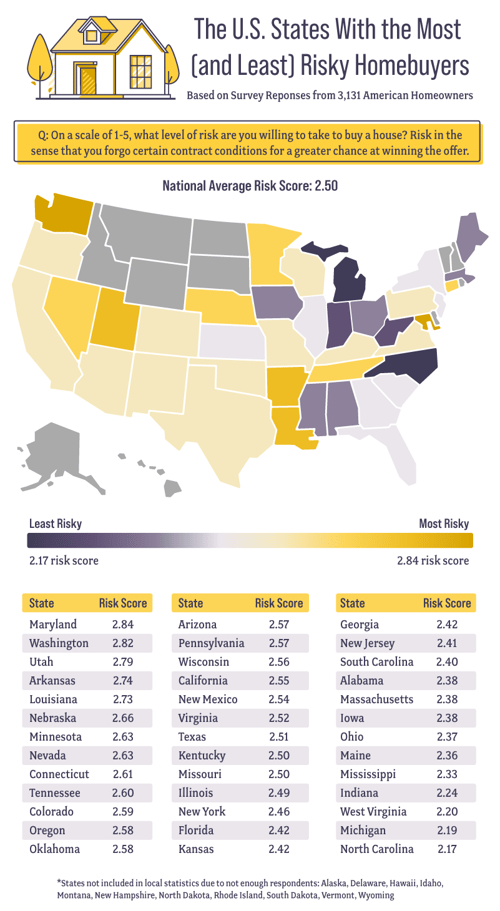 Source and link to the full article: "The U.S. States With the Most (And Least) Risky Homebuyers," Repair Pricer (2021)
Higher Prices Daunting to First-Time Buyers – According to the National Association of REALTORS® recent report, the share of first-time buyers declined last month, as the competition for homes appears to be easing up. First-time buyers have struggled to compete for homes as bidding wars have sent prices surging. Housing inventories are increasing but still, newcomers appear skittish. The number of first-time buyers coming to the total existing-home sales market declined to 29% in August, down from 33% a year earlier. Before the pandemic, in 2019, the share of first-time buyers averaged 32%. "A variety of factors are causing buyers to step away: lack of affordable homes especially at price points below $250,000, lack of financial resources to meet the down payment requirements and competition with cash buyers," Gay Cororaton, an NAR research economist, writes for the association's Economists' Outlook blog.
Source and link to the full article: "Less Intense Multi-bidding and Fewer First-Time Buyers in August 2021," National Association of REALTORS® Economists' Outlook blog (Sept. 24, 2021)