Home Prices Climb Across US Metros – According to the latest quarterly report from the National Association of REALTORS®, home prices continue to rise rapidly as homeowners see double-digit gains over the past year. The median sales price of single-family existing homes rose 16% in the third quarter, an increase of $50,300. Three metros saw price gains of more than 30% compared to a year ago. The median sales price of a single-family existing home rose to $363,700 in the third quarter, which does mark a slower pace in comparison to the prior quarter. Still, all four major regions of the U.S. posted double-digit year-over-year growth, led by the Northeast (17.5%), followed by the South (14.9%), Midwest (10.7%), and the West (10.3%), NAR reports. "Home prices are continuing to move upward, but the rate at which they ascended slowed in the third quarter," says Lawrence Yun, NAR's chief economist. "I expect more homes to hit the market as early as next year, and that additional inventory, combined with higher mortgage rates, should markedly reduce the speed of price increases."
Source and link to the full article: National Association of REALTORS®
Mortgage Delinquencies at Lowest Level Since Pandemic – Based on CoreLogic's recent report, homeowners are keeping up with their mortgage payments or arranging for loan modifications with their service providers. But housing analysts say that while the real estate market still faces pandemic-related fears about a wave of delinquencies, higher home prices are helping to alleviate some of those concerns. The overall delinquency rate fell to the lowest level since the onset of the pandemic. "However, the decrease in delinquencies masks the serious financial challenges that a part of the borrower population has experienced," Molly Boesel, economist at CoreLogic, writes for CoreLogic Insights. "In the months prior to the pandemic, only one in five delinquent loans had missed six or more payments. In August 2021 one in two borrowers with missed payments were behind six or more months. Fortunately, large increases in home prices have given most borrowers a large home equity cushion, making foreclosure far less likely."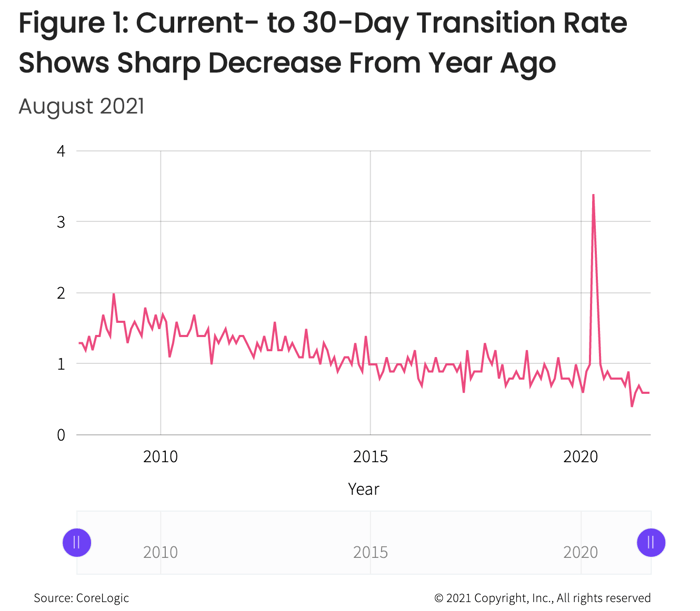 Source and link to the full article: "Delinquencies Fall Even as Half of Delinquent Borrowers Are at Least Six Months Behind on Payments," CoreLogic (Nov. 9, 2021)
Cash-Out Refis Surge as Owners Use Equity Gains – According to Black Knight Inc., with double-digit annual gains fueling homeowner wealth, owners have gotten richer, and they're starting to take advantage of that added equity. Cash-out refinancing, which allows owners to take out a lump sum from their equity through loans, increased by 33% in October compared to a year prior. The amount of U.S. tappable home equity reached a record high in October of $9.1 trillion, according to Black Knight. "We have record home equity thanks to record home prices," Dan Roccato, a financial analyst with Credible, told Forbes.com. "We've had this incredible run-up in home prices over the last 18 months." Homeowners must meet certain credit standards to be able to tap into their home's equity through cash-out refinancing. Lenders usually cap mortgages at 80% of a home's value.
Source and link to the full article: "Americans Cashing Out Home Equity After Record Gains in Value," Forbes.com (Nov. 8, 2021)
Millennials to Keep Housing Strong for Years to Come – Based on a recent Barron's report, expanding wealth and growing families are prompting more millennials to become homeowners. Ultra-low mortgage rates are continuing to attract them as well. Young adults ranging from 26 to 41 years old comprise about 22% of the U.S. population. It's why the housing market has been watching this age segment so closely for so long. More millennials have become homeowners since the pandemic. Millennials have accounted for the largest share of home buyers over the past year at 37%. The pandemic is motivating purchases. The number of households headed by adults aged 30 to 44 years old jumped by 1.3 million during the pandemic. Married couples ages 31 to 40 were more likely than any other age group to purchase homes, according to the National Association of REALTORS®. Also, the largest group of unmarried couples who purchased homes were adults between the ages of 22 to 30. Millennials are approaching their peak earning years. "Over the next couple of decades, a quarter of the U.S. population is going to reach peak earning years, fueling continued housing demand, especially for inexpensive starter homes, which nationally had a beginning price of $304,200 in the second quarter of 2021," Barron's reports. Remote work will only further housing demand, the report suggests.
Source and link to the full article: "Millennials Will Drive Home Prices Up for Years to Come," Barron's (Oct. 31, 2021)