Contract Signings Surge as Home Buyers Remain Eager – According to the National Association of REALTORS®'s recent report, pending home sales bounced back strongly in May and surged to the highest reading for the month of May since 2005. NAR's Pending Home Sales Index, a forward-looking indicator of home sales based on contract signings, climbed 8% in May compared to April. Contract signings are up 13.1% compared to a year earlier. "May's strong increase in transactions, following April's decline, as well as a sudden erosion in home affordability was indeed a surprise," says Lawrence Yun, NAR's chief economist. "The housing market is attracting buyers due to the decline in mortgage rates, which fell below 3%, and from an uptick in listings." Buyers are shaking off record-high home prices and low inventories of homes for sale. Housing inventories are down 20.6% compared to a year ago. Also, the median existing-home price for all housing types posted a record year-over-year increase of 23.6% in May, according to NAR data. The median home price was $350,300.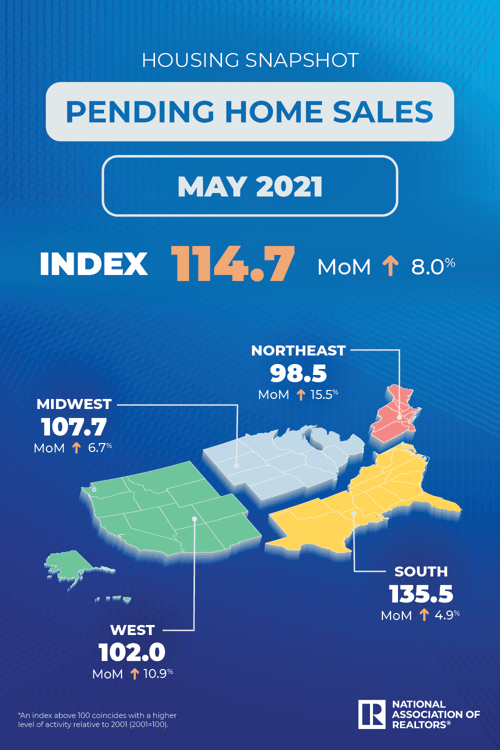 Source and link to the full article: National Association of REALTORS®
Adjustable-Rate Mortgages Stage Comeback – Based on the Mortgage Bankers Association updates, adjustable-rate mortgages became unpopular after the 2008 financial crisis, but they are re-emerging as buyers contend with record high home prices. "The epic surge in home prices has people looking to save money on monthly payments anywhere they can," Matt Graham, chief of operations at Mortgage News Daily, told realtor.com®. Applications for ARMs are up 12.5% year over year. ARMs offer mortgage rates that reset after a period of five or 10 years. If rates go up by the time borrowers' loans reset, they will likely face higher monthly mortgage payments. Financial experts warn that borrowers taking out ARMs today at historically low rates likely will face higher rates and payments in the future.
Source and link to the full article: "Why More Homebuyers Now Are Turning to This Much Riskier Type of Mortgage," realtor.com® (July 5, 2021)
Lift in Listings as Home Prices Shatter Records – According to a new report from realtor.com®, as home listing prices break another new record, more homeowners are looking to take advantage and list their homes for sale. New listings in June rose 5.5% year-over-year and are up 10.9% over the prior month. The uptick in new listings may give buyers more homes to choose from and could offer a hopeful sign for the real estate market. Still, the inventory challenges in the housing market are far from over: The number of homes for sale still remains 43% lower than last year. "Although there's still a significant shortage of homes for sale and home prices just hit a new high, our June data report shows good news on the horizon for buyers," says George Ratiu, senior economist at realtor.com®. "Inventory declines improved over the steep drops seen earlier in the pandemic as sellers stepped back into the market in a variety of price ranges across the country. The improvement we saw in new listings growth from May to June shows sellers are entering the market historically later in the season. This could mean we'll see home buying continue into the fall as buyers jump at new opportunities."
Source and link to the full article: realtor.com®
Prices for Construction Materials Jump 26% in a Year – Based on the National Association of Home Builders data, widespread shortages on building materials continue to prompt home builders to raise their prices. Material prices have increased by 26% over the past year for building the same house. That's put pressure on new-home prices: In May, the median price of a newly built home was 18% higher than a year ago, at $374,400. Material shortages have increased for appliances, paint, lumber, and more. To help offset these higher prices, builders are raising their prices and pre-ordering items, according to the latest monthly survey of the NAHB/Wells Fargo Housing Market Index. Forty-five percent of builders surveyed are also adding in price escalation clauses to protect themselves from rising prices during the process and passing those higher costs on to buyers.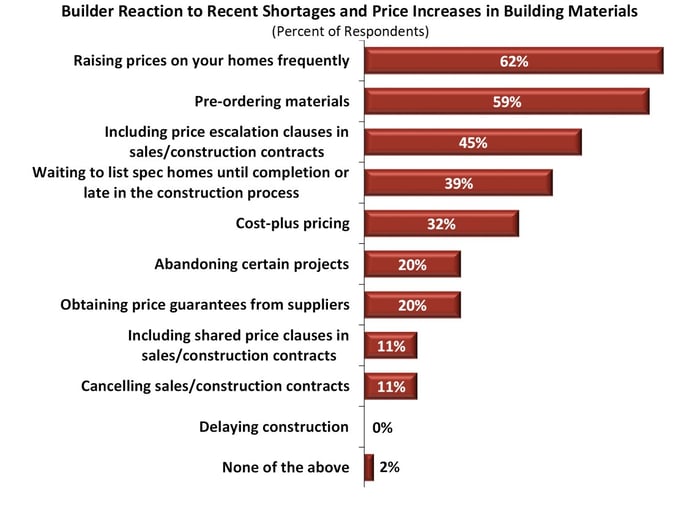 Source and link to the full article: "Shortages Cause Builders to Raise Prices, Pre-Order Materials," National Association of Home Builders' Eye on Housing blog (July 5, 2021) and "Lumber Prices Just Dropped for an 8thStraight Week—and They're Down More than 50% From High Record-Setting Demand Slows," INSIDER (July 4, 2021)