Finally, Mortgage Rates and Home Prices Favor Buyers – According to Realtor.com®, Christmas has arrived early for America's homebuyers! And it's not just one gift, but two that should make them happy.
Gift No. 1: Lower mortgage rates, which have been falling for the past several weeks. "Housing data in the week that followed the Thanksgiving holiday showed that the recent dip in mortgage rates may already be having an impact," explains Realtor.com® Chief Economist Danielle Hale in her weekly analysis. Yet with rates in flux, there may be little time for home shoppers to waste. "With far more consumers still generally expecting higher rates rather than lower rates, those hoping to make a purchase may have some urgency to capitalize on what may be a temporary dip," warns Hale.
Gift No. 2: Home price growth "slowed notably" for the week ending December 3, according to Hale. In November, the median price of a house hovered at $416,000. Yes, that's high, but nowhere near the record high of $449,000 in June. Furthermore, although the cost of a home has grown by double digits year over year for the past 49 weeks straight, the good news for homebuyers is that this growth is steadily ratcheting down. And if the slowing continues, home price growth could move back into the single-digit territory before the end of the year, giving buyers even more purchasing power.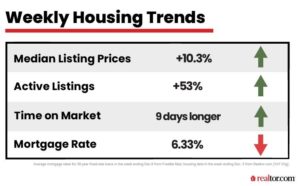 Source and link to the full article: Finally, Mortgage Rates and Home Prices Favor Buyers—but How Long Will This Christmas Miracle Last? (realtor.com)

Housing inventory sees biggest surge in 7 years – Based on Redfin reports, for-sale inventory of single-family homes increased by its largest year-over-year margin since 2015. However, it was the result of homes staying on the market longer rather than a flood of new listings. The total number of homes for sale jumped 15% on an annual basis for the four-week period ending December 4th, according to data compiled by the real estate brokerage. At the same time, the number of new homes listed slid by 20% over that period. The combined factors indicate that properties are taking longer to sell. The average length of time homes sat on the market before being sold lengthened to 37 days, up from 28 days a year ago, the largest slowdown on record. The current average is now more than two times longer than it was in June when it had shortened to a record low of 17 days. Listings sold within two weeks also fell to 30%, the lowest since January 2020.

Source and link to the full article: Housing inventory sees biggest surge in 7 years | National Mortgage News

Mortgage rates fall for the fourth straight week - According to Freddie Mac's Primary Mortgage Market Survey, the average rate for a 30-year fixed-rate mortgage dropped to 6.33% for the week ending December 8th. This was a decrease from the previous week when it averaged 6.49%, yet it remains significantly higher than last year when it was 3.10%. The 15-year mortgage was 5.67% recently, down from 5.76% the week before and up from 2.38% last year. Mortgage rates dropped three-quarters of a point in the past four weeks, "the largest decline since 2008," according to Sam Khater, Freddie Mac's chief economist.

Source and link to the full article: Mortgage rates fall for the fourth straight week: Freddie Mac | Fox Business

Lending standards loosen amid high mortgage rates, a slow housing market – Based on the Mortgage Bankers Association's (MBA) statement that standards loosened in November for the first time in nine months as mortgage rates remained elevated and the housing market slowed further. The MCAI rose by 1.4% to 103.4 in November, according to the MBA. An increase in the MCAI benchmark to 100 indicates that lending standards are loosening, while a decrease in the index is indicative of tightening credit. Credit loosening was notable in the jumbo segment in November. Of the component indices of the Conventional MCAI, the Jumbo MCAI increased by 3.9%, and the Conforming MCAI rose by 1%. The Conventional MCAI increased by 2.8%, while the Government MCAI remained unchanged. "Jumbo credit availability saw a 4% increase, as jumbo rates remained more competitive than rates on conforming loans, Joel Kan, MBA's vice president and deputy chief economist, said in a statement. "Lenders are seeking to capture more volume in this space. Most of last month's increase came from more ARM loan programs being offered."

Source and link to the full article: Lending standards loosen amid high mortgage rates, slow housing market - HousingWire