Average Mortgage Amounts Reach Record Highs – According to the Mortgage Bankers Association recent report, the average purchase loan amount has reached a new record high: $402,200. The higher-priced segment of the housing market continues to perform strongly, the MBA says. Mortgage amounts have been climbing to new record highs since April 2020, near the start of the COVID-19 pandemic. Home buyers are borrowing more as home prices rise by double-digit percentages over the past year. Also, mortgage interest rates have been hovering near record lows. "Since interest rates are lower, monthly payments are lower, even with higher loan balances," says The Ascent, a Motley Fool financial publication. "This makes it easier for would-be borrowers to get approved for bigger loans."
Source and link to the full article: "Mortgage Applications Decrease in Latest MBA Weekly Survey," Mortgage Bankers Association (Feb. 10, 2021); "Homeowners Are Borrowing More Than Ever as the Average Mortgage Climbs to New Highs," The Ascent/Motley Fool (Feb. 9, 2021); and "January Mortgage Credit Availability Increases," Mortgage Bankers Association (Feb. 9, 2021)
Personal Financial Pressure Behind Relocation Surge – Based on a new survey from the Pew Research Center, financial distress is becoming a bigger factor for Americans who are deciding to move. When the COVID-19 pandemic first began, Americans were mostly relocating due to fears of getting infected or moving back home due to closed colleges. But now, Americans are less likely to cite the risks of getting coronavirus and more likely to say they're relocating due to financial stress. Five percent of U.S. adults reported having to move temporarily or permanently due to the COVID-19 pandemic, according to the newly released survey, conducted in the latter half of November 2020. That percentage is up from 3% in June. Young adults ages 18 to 29 are the most likely to have moved during the pandemic. More than one in 10 young adults have relocated to a new home. But in the most recent survey conducted in November, young adults didn't say they were moving back due to college closings but mostly due to financial stress.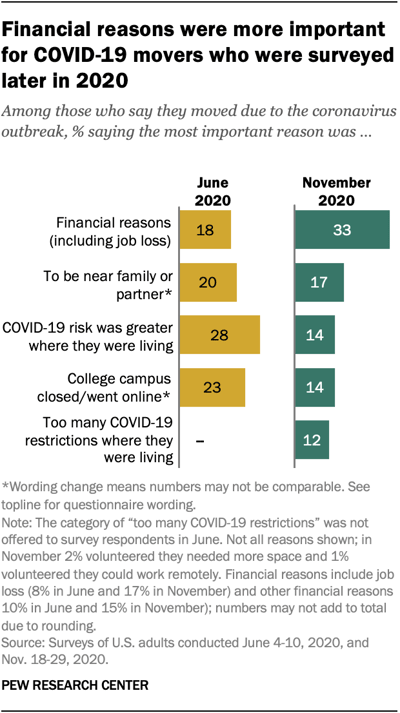 Source and link to the full article: "As the Pandemic Persisted, Financial Pressures Became a Bigger Factor in why Americans Decided to Move," Pew Research Center (Feb. 4, 2021)
Home Sellers Are Feeling More Optimistic – According to Fannie Mae's Home Purchase Sentiment Index, homeowners are increasingly viewing selling favorably as home prices rise by double-digit margins year over year. Consumers reported a significantly more positive view of home selling conditions month over month in January, jumping 16 percentage points. "Overall, the index's monthly increase was driven largely by a substantial jump in the share of consumers reporting that it's a good time to sell a home, with many citing favorable mortgage rates, high home prices, and low housing inventory as their primary rationale," says Doug Duncan, Fannie Mae's chief economist. "Among owners and higher-income groups, however, the other five components of the index remained relatively flat or slightly negative, suggesting to us that some consumers are waiting to gauge the effectiveness of any new fiscal policies and vaccination distribution programs on both housing and the larger economy." Duncan notes that lower-income and renter groups were more optimistic in January across nearly all of the index's components. "We will pay close attention to see if this newfound optimism develops into a trend, which could indicate either that some demographics who have been negatively impacted by the pandemic may be starting to feel the economic recovery or that this is a response to the additional stimulus enacted in December," Duncan says.
More highlights from the January index reading:
52% of consumers say it's a good time to buy a home, mostly unchanged from December 2020.
57% of consumers say it is a good time to sell a home, increasing from 50% the month prior.
41% of consumers believe home prices will go up over the next 12 months.
75% of consumers say they are not concerned about losing their job in the next 12 months, unchanged from December 2020.
21% of consumers say their household income is significantly higher than it was 12 months ago, while the percentage who say their household income is significantly lower decreased to 14%. Sixty-four percent of consumers say their household income is about the same.
Source and link to the full article: Fannie Mae
3-Month Forbearance Extension for FHFA Loans – Based on the Federal Housing Finance Agency announcement recently, it would allow borrowers with Fannie Mae and Freddie Mac-backed loans to request an additional three months of forbearance. Originally, borrowers with federally backed mortgages could request up to 12 months of forbearance if experiencing financial hardship due to the COVID-19 pandemic. But FHFA is now allowing those still struggling to make their mortgage payments to prolong their current forbearance. Eligibility for the three-month extension is limited to borrowers who are on a current COVID-19 forbearance plan as of February 28th. If granted, that means a borrower who has a government loan could now have up to 15 months total of missed and delayed mortgage payments.
Source and link to the full article: "FHFA Extends Foreclosure and REO Eviction Moratoriums and COVID Forbearance Period," Federal Housing Finance Agency (Feb. 9, 2021)