Mortgage rate lock volume hits lowest level in 3 years
According to Black Knight, mortgage rate lock activity was at its lowest level in over three years in October, led by consumers continuing to turn away from using cash-out refinancings to tap high home equity values. Across all loan purposes, rate locks were down 14.3% from September and 61% compared with October 2021. This is the fewest mortgages locked since February 2019, according to data analyzed from Black Knight's Optimal Blue product and pricing engine. In particular, cash-out refi rate locks were down 25.1% month-to-month and 83.6% year-over-year. These typically are driven more by the need for liquidity, and activity had stayed relatively consistent to 2021 levels early in the year, but volume fell off between March and April and has been trending downward ever since.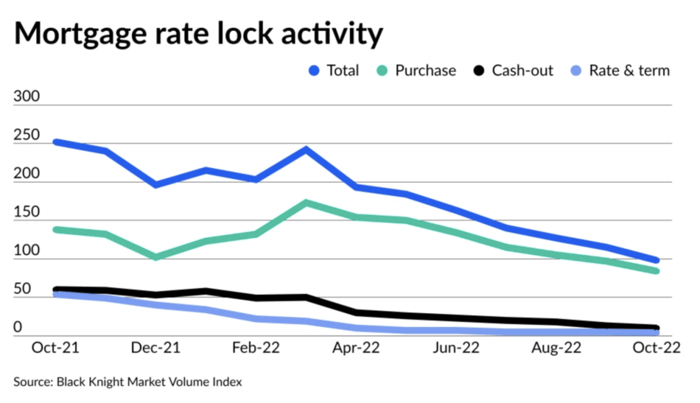 Source and link to the full article: Mortgage rate lock volume hits lowest level in 3 years | National Mortgage News
"Many Prospective Buyers Are Waiting for the Volatility in Mortgage Rates to Subside"
Based on data released by Freddie Mac recently, the 30-year fixed-rate mortgage averaged 7.08%. The 30-year was last at this level in mid-2002. "The housing market is the most interest-rate sensitive segment of the economy, and the impact rates have on homebuyers continues to evolve," Sam Khater, chief economist at Freddie Mac, said in a statement. "Home sales have declined significantly and, as we approach year-end, they are not expected to improve," he added. The adjustable-rate mortgage averaged 6.06%, up from the prior week. Some homebuyers are fed up waiting for rates to stabilize and are jumping in with 7% rates, an industry group said. "Although mortgage rates remained above 7% recently, applications to buy a home increased for the first time in six weeks," Bob Broeksmit, president, and CEO of the Mortgage Bankers Association, said in a statement. Still, "many prospective buyers are waiting for the volatility in mortgage rates to subside, as well as for a clearer picture of the economic outlook," he added. Source and link to the full article: Mortgage Rates Hit 7.08%, Freddie Mac Says (realtor.com)
For the Federal Reserve, less bad news is good news
According to recent reports, after a year of scrutiny and criticism, the Federal Reserve had a good week. Two major developments recently bolstered the central bank's credibility in setting monetary as well as bank regulatory policy at a time when it is facing heavy scrutiny on both fronts. First, a better-than-expected inflation reading from the Bureau of Labor Statistics' consumer price index provided evidence that the Fed's efforts to cool down the economy are taking effect. Prices rose 7.7% year over year, the smallest increase since January. Excluding volatile factors such as food and energy as the Fed does when setting monetary policy, annual inflation was just 6.3%. Source and link to the full article: For the Fed, less bad news is good news | National Mortgage News
Housing Market Predictions for The Next 5 Years. What Return Can You Expect?
Based on a recent Forbes.com article, we can't be certain what the future holds for any investment asset. Even with hours of research, the best algorithms and the most skilled analysts, there's always the potential for something completely unexpected. The last few years have looked completely different to what was projected before the outbreak of Covid-19, and there is always the potential for something new and unaccounted for to come along. Even so, it makes sense to look to the future to at least provide some guidance as to the impact on our finances. This is particularly true for the housing market. For many people, buying a home is the single largest purchase they're ever going to make. It makes sense to really want to get it right. It also takes many years of saving and planning, which is why looking as far into the future as possible is a good idea. What is the property market looking like it's going to do over the next few years? The housing market is a hot topic right now, and after experiencing rapid growth over the pandemic years it looks to now be slowing down. Experts are expecting real estate values to fall over the next 12 to 18 months before they stabilize and then eventually recover. Overall returns over the next 5 years are expected to be between 15 - 25%. Source and link to the full article: Housing Market Predictions For The Next 5 Years. What Return Can You Expect? (forbes.com)