Where REALTORS® Expect Highest Price Gains – According to the REALTORS® Confidence Index, fifty-eight percent of REALTORS® report higher home prices in their markets compared to a year ago, as well as elevated levels of buyer and seller foot traffic. The monthly index reflects responses from more than 4,500 real estate professionals nationwide. REALTORS® also are upbeat about the direction of home prices over the next year.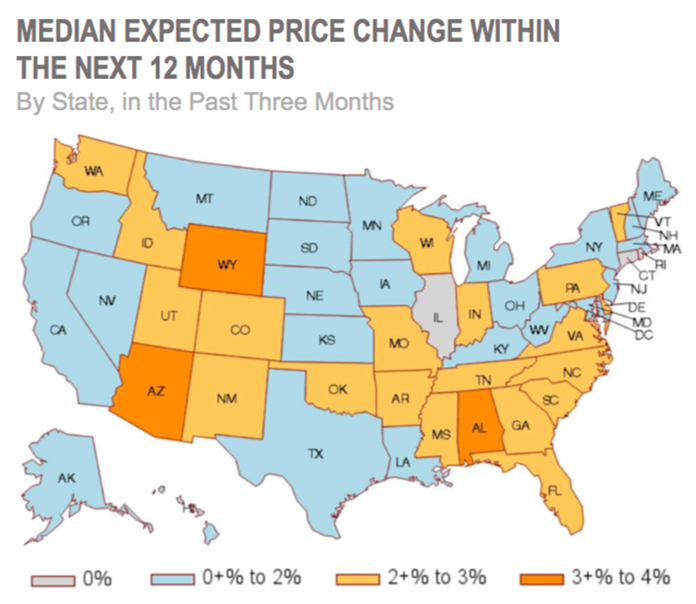 Source and link to the full article: "REALTORS® Confidence Index," National Association of REALTORS® (October 2019)
Buyers May Have an Easier Time Qualifying for a Mortgage – Based on the Mortgage Bankers Association's Mortgage Credit Availability Index, credit standards are loosening, a trend that has been consistent over the last three months. The MBA's Mortgage Credit Availability Index rose 2.1% in November, which indicates "loosening credit." Further, the trade group says it expects the trend to continue in the new year. "Expanding credit availability will continue to support active levels in mortgage lending, even as refinance activity starts to level off," says Joel Kan, MBA's associate vice president of economic and industry forecasting. The loosening of credit is most evident for government-backed mortgages, including FHA, VA, and USDA loans for rural properties, MBA reports. Jumbo loans, which have risen 2.2% to reach a record high, also showed a loosening of standards, MBA reports. "The jumbo index climbed to yet another record high, as investors increased their willingness to purchase loans with lower credit scores and higher LTV ratios," Kan told The Mortgage Reports.
Source and link to the full article: "Credit Standards Are Loosening: Buyers May Now Find it Easier to Get a Mortgage," The Mortgage Reports (Dec. 9, 2019)
Mortgage Rates Could Trend Upward Through 2020 – Based on Freddie Mac reports, a humming economy and a halt to Federal Reserve interest rate hikes at least in the immediate future, are helping to push mortgage rates higher. With economic expansion expected to continue into the new year, the 30-year fixed-rate mortgage, which increased to an average of 3.73% recently, could see steady inclines over the long haul, Freddie Mac reports. "With Federal Reserve policy on cruise control and the economy continuing to grow at a steady pace, mortgage rates have stabilized as the market searches for direction," says Sam Khater, Freddie Mac's chief economist. "The risk of an economic downturn has receded and combined with the very strong job market, it should lead to a slightly higher rate environment." Mortgage rates reached their lowest point of the year in early September, hitting 3.49%, but they've been inching upward since.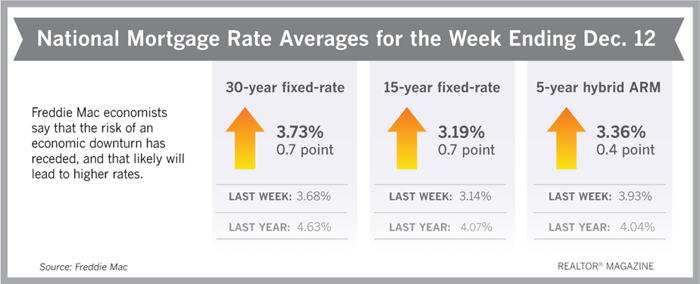 Source and link to the full article Freddie Mac
First-Time Buyer Market Shows Signs of Rebounding – According to a Genworth Mortgage Insurance report, more first-time buyers emerged on the market in the third quarter, a modest rise, but one that economists are still upbeat about. First-time buyers purchased 591,000 homes in the third quarter, a year-over-year increase of 1%, First-time buyers comprised 39% of all buyers in the single-family market, and 55% of purchase mortgages. A large number of millennials are beginning to reach their early 30s. The average homeownership rate is 15 percentage points higher for those aged 30–34 compared to those aged 25–29, U.S. Census Bureau data shows. "The sharp increase in the homeownership rate from late 20s to early 30s implies that millennials are in the middle of their transition from renting to owning, which explains the higher mix of first-time home buyers in the housing market," the Genworth report notes. "Millennials currently span the ages of 23 and 38, so their transition is only around halfway complete."
Source and link to the full article: "First-time Homebuyer Market Report," Genworth (December 2019) and "First-Time Homebuyer Market Rebounds in Q3," MReport (Dec. 10, 2019)