2023: The Year of the Homebuyer? Our Bold Predictions on Home Prices, Mortgage Rates, and More
According to Realtor. com®'s Annual Housing Forecast, the dramatic swings and wild gyrations in the housing market are expected to taper off as the real estate ecosystem continues to slow. While the Realtor.com 2023 forecast anticipates home and rental prices will keep climbing next year, the increases will be much more modest than the huge surges seen earlier this year. Mortgage interest rates will remain high, which has become the bane of many first-time and other buyers who can't pay all in cash. But they aren't expected to rise again substantially. Sales are expected to continue falling as buyers can't afford the demanding combination of towering home prices and high mortgage rates. Home and rental prices have been falling from their peaks over the summer, but they're still rising year over year. "It's going to be a tough year for homebuyers, home sellers, and the overall housing market," says Realtor.com Chief Economist Danielle Hale. But "we're going to take some steps toward a better balance between buyers and sellers."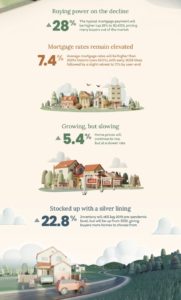 Source and link to the full article:
Will Home Prices and Mortgage Rates Fall? What To Expect in 2023 (realtor.com)
2023 conforming loan limit to rise 12%, topping $1M in some areas
Based on
the Federal Housing Finance Agency's recent announcement, beginning in 2023, Fannie Mae, Freddie Mac and the Federal Home Loan Banks will buy home loans as pricey as $726,200 in most areas and over a million dollars in high-cost locations. The baseline conforming loan limit's increase of 12% from this past year reflects the year-over-year change in home prices, not the recent month-to-month slowdown in appreciation. If home prices continue to decline next year, Fannie Mae and Freddie Mac will likely end up with an expanded footprint, a Keefe, Bruyette & Woods commentary said.
Source and link to the full article:
2023 conforming loan limit to rise 12%, topping $1M in some areas | National Mortgage News
Pending Homes Fall 4.6% in October, Fifth Month of Decline
According to the National Association of Realtors' recent report, the housing sector has been the area of the U.S. economy most affected by higher interest rates. Pending home sales fell for the fifth consecutive month in October as high mortgage rates dampened demand. Three of four U.S. regions recorded month-over-month decreases, but the entire country saw year-over-year drops in transaction activity. "October was a difficult month for home buyers as they faced 20-year-high mortgage rates," said NAR Chief Economist Lawrence Yun. "Contract signings for existing homes took yet another step back in October as home purchase activity continued to slow," Realtor.com Economic Data Analyst Hannah Jones said. "The Freddie Mac 30-year fixed rate surpassed the 7% threshold by the end of October, a level not seen in 20 years. Mortgage rates up more than 350 basis points and home prices up 13.3% compared to last year meant many buyers could not afford to finance a home purchase in October." NAR's Yun said the recent dip in mortgage rates could bring some prospective homebuyers back into the market. "The upcoming months should see a return of buyers, as mortgage rates appear to have peaked and have been coming down since mid-November," he said.
Source and link to the full article:
Pending Homes Fall 4.6% in October, Fifth Month of Decline | Economy | U.S. News (usnews.com)
Mortgage rates continue to fall, but demand drops further
Based on the Mortgage Bankers Association's seasonally adjusted index, mortgage rates soared over 7% just a month ago. Still, they have fallen more than half a percentage point since then. The average contract interest rate for 30-year fixed-rate mortgages with conforming loan balances ($647,200 or less) decreased to 6.49% from 6.67%. The weakness continues to be in refinance demand, which dropped 13% from the previous week and was 86% lower than the same week one year ago. According to Black Knight, roughly 100,000 more current borrowers could now benefit from a refinance with the latest rate drop. Mortgage applications to purchase a home gained 4% from the previous week, but demand was 41% lower than one year ago. Sales of existing homes continue to drop, while newly built home sales benefit from builder concessions, deals explicitly in which the builder buys down the mortgage rate.
Source and link to the full article:
Mortgage rates fall for the third straight week, but demand still drops further (cnbc.com)