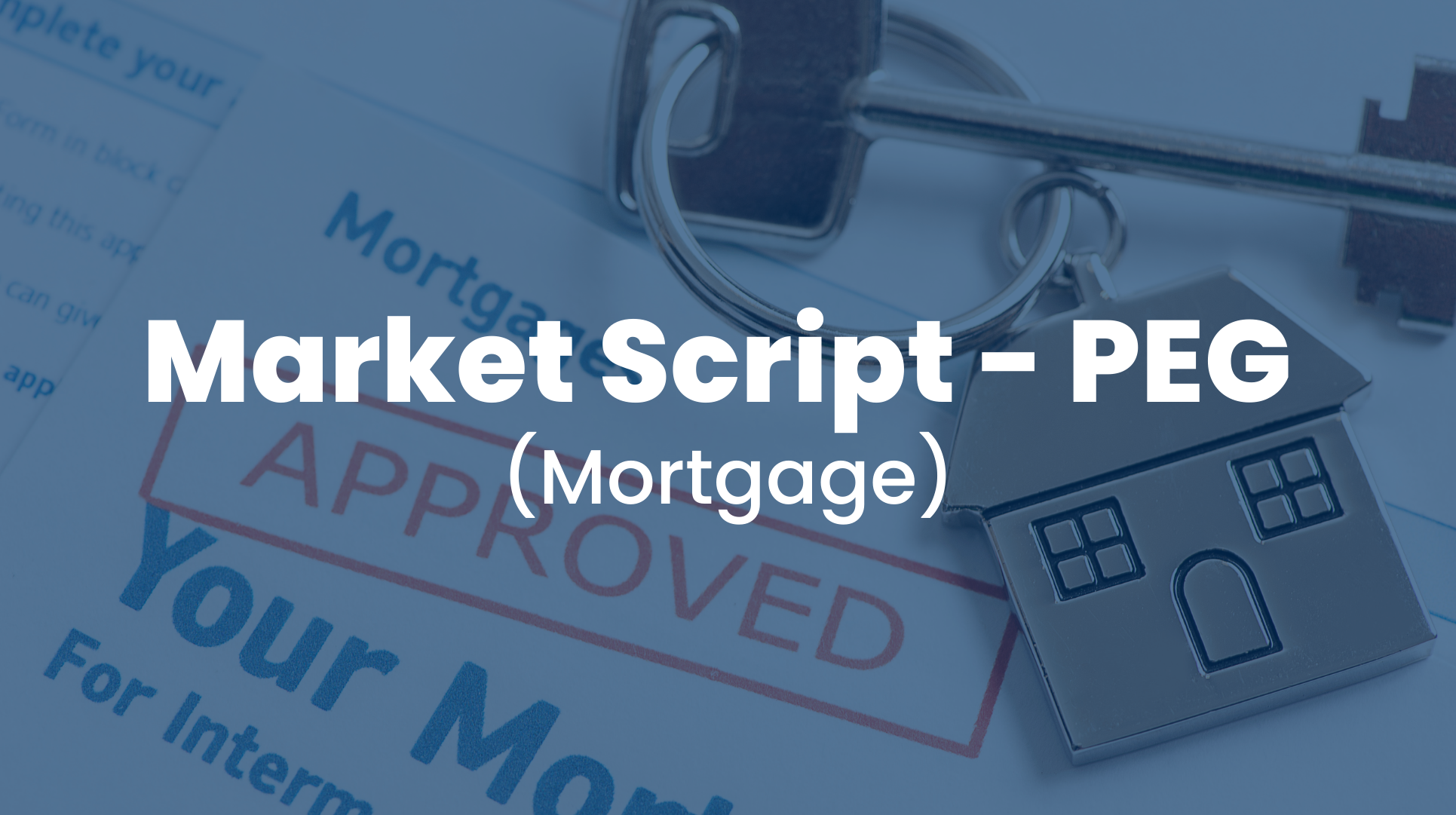 Market Script (PEG)
(Week of 03/20/2023)
WEEKLY SCRIPTS ENABLING YOU TO FACILITATE DISCUSSION ABOUT THE MARKET WITH YOUR CUSTOMERS AND REFERRAL SOURCES.
What is PEG?
"What do you think rates are going to do?" This is a common question Loan Officers must frequently answer.
At XINNIX, we believe professional loan officers should respectfully and directly answer this key client question to ensure maximum customer satisfaction. Why? Because you never get a second chance to make an excellent first impression. The confidence, manner, content, and concise nature in which this question is answered is critical to gaining a customer's "buy-in".
PEG is an acronym that stands for:
Present (current market conditions)
Expectations (industry expert's forecast)
Guidance (personal, client-specific advice)
When you exude personal confidence, communicate with clarity and provide brief, accurate and relevant market information to your clients, you will differentiate yourself as a true professional. Our weekly market script will help you consistently deliver a professional response to your client's important market question, and you will gain a tremendous opportunity to showcase your professionalism!
Week of March 20, 2023
Present Market Conditions
Attributed to Sam Khater, Chief Economist.
"Mortgage rates are down following an increase of more than half a percent over five consecutive weeks," said Sam Khater, Freddie Mac's Chief Economist. "Turbulence in the financial markets is putting significant downward pressure on rates, which should benefit borrowers in the short-term."
Expectations
The financial data for this week will be primarily focused on housing, income information and the Fed Meeting. Tuesday starts the information with the Existing Home Sales information. Wednesday brings us to the next Fed Meeting. All eyes will be on how much rates get adjusted at that point. Thursday follows up with the Unemployment Reports along with New Home Sales. Friday finishes up with the Durable Goods data.
Guidance
It's a great time to be in the market for a mortgage! You'll want to make sure you take advantage of this great time to buy!
Let's Connect!
With a focus on experiential learning, The XINNIX System™ equips your sales, leadership and operations teams with the modern performance skills they need to transform their lives — and the trajectory of your business success. Our unique methodology has a 20-year proven track record of success.
Discover the XINNIX Difference and reach out to chat with a National Sales Executive today.
Ready to Learn More?
Let us know how to reach you and our experts will be in touch.