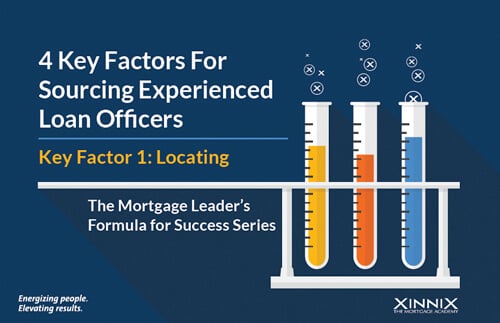 4 Key Factors for Sourcing Experienced Loan Officers
Minimizing recruiting mistakes begins with sourcing effectively. To gain a competitive advantage and grow your business quickly, the quality of your experienced loan officers is dependent on this very important step. There are four key factors for sourcing qualified talent. Join us as we explore each of these in the following ebook series.
Part 1: Locating and Positioning This ebook will aid you in your search for experienced talent by providing you with locations to consider and tactics to locate and position yourself in front of talented sales professionals. Download this ebook to learn more about locating experienced loan officers. Part 2: Screening This guide will assist you in sorting through resumes, offering proven traits of successful experienced Loan Officers to compare with your applicants, tips on how to conduct a "pre-interview" screening over the phone and conducting the face-to-face interview.
Let's Connect!
With a focus on experiential learning, The XINNIX System™ equips your sales, leadership and operations teams with the modern performance skills they need to transform their lives — and the trajectory of your business success. Our unique methodology has a 20-year proven track record of success.
Discover the XINNIX Difference and reach out to chat with a National Sales Executive today.
Ready to Learn More?
Let us know how to reach you and our experts will be in touch.