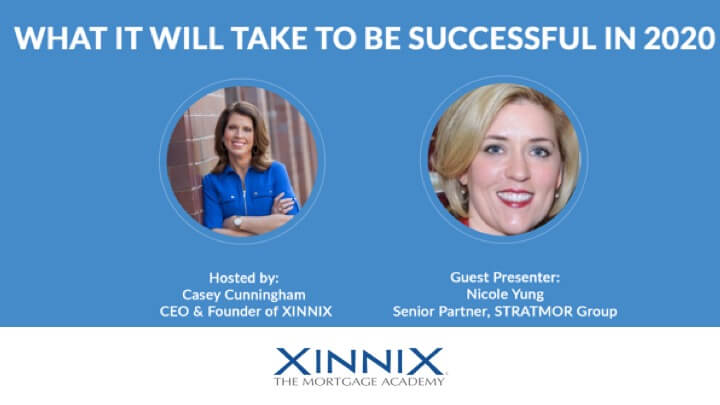 What It Will Take To Be Successful in 2020
With CEO & Founder OF XINNIX, Casey Cunningham and Guest Presenter, Nicole Yung, Senior Partner, Stratmor Group. If you are veteran mortgage professional chances are that sometime in the past decade you have either read Nicole Yung's work or seen her speak as a Stratmor expert. Nicole has lead responsibility for Stratmor's analytic services, including the financial modeling and valuation tasks required by many of Stratmor's merger and acquisition and operational clients. Compensation was a highly debated topic among leaders in 2018 and 2019, and Nicole is a sought after speaker on the subject as she holds held primary responsibility for the annual Stratmor Compensation Connection Study that benchmarks mortgage compensation. In this Energy Webinar, XINNIX Founder and CEO Casey Cunningham sits down with Nicole to share what it will take to be successful in 2020. Together they discuss: What we learned from 2019 that will drive your 2020 business plan Is the December application slow down the start of a trend? The price of technology on your business – Who pays and who benefits What to do to stay productive When the markets turns What you need to watch to fine-tune your plan …and so much more! Enter your information to view the recording. The slides we covered during the webinar will be emailed to you.
Let's Connect!
With a focus on experiential learning, The XINNIX System™ equips your sales, leadership and operations teams with the modern performance skills they need to transform their lives — and the trajectory of your business success. Our unique methodology has a 20-year proven track record of success.
Discover the XINNIX Difference and reach out to chat with a National Sales Executive today.
Ready to Learn More?
Let us know how to reach you and our experts will be in touch.